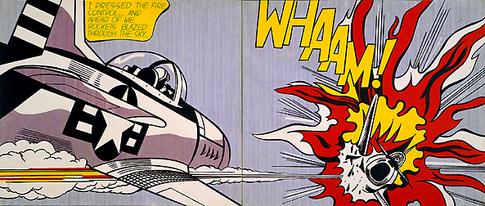 According to the designer Mario Tomisa, contemporary societies are based on mass-production and consumption, and the global exchange of capital and labor, so he concludes that design can be also defined as an intellectual and creative interdisciplinary activity that functions within the society and has the need to materialize myths in order to foster mediation within the cultural system.
The term "Design" itself, as a synthesis of art and industry, began to be theoretically elaborated from an early age of "Second Modernization", that is, in the early 1950s.
So when we say that design itself is a synthesis of art and industry, there is no wonder that we can not determine for sure what differences graphic design from pop art, which arises as a result of a technique of work applied during work process in graphic design.
Professor of Graphic Design Ryan Hembree at the University of Missouri details how graphic design differs from art, and thus the ultimate goal of creating work between an artist and a graphic designer. He points out the fact that designers sometimes use the same tools as a painter, sculptor, or photographer when creating their work, which may even contain pieces of artwork within the composition. To high art and design, creative creation is common, but individual purpose is completely different. Hembree states that high art is self-sufficient, as well as the motives of creation that are expressed on an individual level. The artist explores social problems, creates an opinion (viewpoint), and provides viewers with scenes of the world around them. Although most artists' aspiration is to sell works to people who relate to their works on a visual and emotional level, the work itself is mostly created for its own reasons, not for the individual buyer. Graphic design, on the other hand, is a vocation that involves creating visual communication at the expense of a customer who has a very specific need and is willing to pay for it.
On the other hand theorist Rick Poynor notes and points out that graphic design has always borrowed motifs from other fields of art, questioning how the element of postmodern borrowing differs from borrowing from previous artistic periods throughout history. As an example of a design that borrows distinctive elements from previous artistic periods, he takes the design created by Malcolm Garrett to cover the album New Gold Dream of music rock band Simple Minds. Thus, the cover of the said album contains a combination of medieval motifs, such as the Catholic Cross, which at its core contains the motif of the Heart of Christ, inside which is a booklet, with a medieval calligraphic font over a "marble" background. The overall impression does not give the impression of contemporary design, but it does convey that visual message of the basic idea of ​​the album.

Through my research, I found many designers and artists, who could be interesting for my topic, but I don't want to make this post really, really long so I am going to mention just a couple of them.
Butcher Billy
One of them is a designer who publishes works under the artistic name Butcher Billy. This Brazilian illustrator and designer, like his pop predecessors, draws inspiration from what he considers to be a popular culture of various sources (such as music, comics, movies, games, etc.), and fuses them into interesting works. He considers himself a butcher of popular culture obsessed with finding the perfect cut. Nowadays, making links to pop culture can be common and boring, but this is not the case with this artist. His work is recognizable for its vibrant, vibrant colors. It gives observers, with a sense of nostalgia, a fresh look at the already familiar current scene.

Shepard Fairey
Another example is the work of artist Shepard Fairey. Shepard Fairey is a contemporary street artist, illustrator, graphic designer, activist and founder of the OBEY Clothing clothing line. Formerly known to the public as the creator of Andre the Giant Has a Posse (1989), he became even more famous by creating the HOPE (2008) poster for Barack Obama's presidential campaign. The HOPE poster incorporates photography into the composition.
Richard Avedon
He was born in New York and he attended DeWitt Clinton High School in the Bronx, where he worked on the school paper with James Baldwin. After briefly attending Columbia University, he started as a photographer for the Merchant Marines in 1942, taking identification pictures of the crewmen with his Rolleiflex camera given to him by his father as a going-away present.
Among his important works are the photographies of members of a music group "The Beatles", which he took in August 1967. Four of them were later adorned with psychedelic effects. They were first published in the 9 January 1968 edition of the US magazine Look and were subsequently sold as posters.



Sources:
https://www.fsu.edu.rs/istorija-grafiti-umetnosti-stencil-art/
https://repozitorij.ffos.hr/islandora/object/ffos%3A4107/datastream/PDF/view
http://guity-novin.blogspot.com/2010/06/chapter-33-pop-art.html